i like this article and yes when we say small,
other people have different perspective of small.
question is how small is small? same as how big is small?
========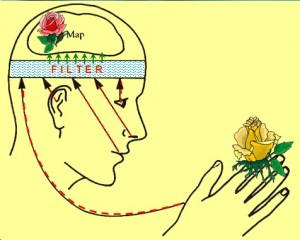 Realiti Sebenar (RS) dan Realiti Fikiran (RF)
Apakah yang dimaksudkan Realiti Sebenar? Realiti sebenar adalah realiti sesuatu perkara di mana hanya Allah sahaja yang tahu. Manakala Realiti Fikiran adalah realiti di mana fikiran kita memahami tentang sesuatu itu dari kacamata dan fikiran kita.
Gambar di sebelah menunjukkan contoh Realiti Sebenar dan Realiti Fikiran menafsir sesuatu perkara. Realiti Kita menerima maklumat atau informasi secara Visual (lihat), Auditori (dengar), Kinestetik (sentuhan), Olfaktori (bau) dan Gustatori (rasa). Setiap informasi yang masuk ke fikiran kita akan dihalang oleh dua penapis yang dikenali sebagai Penapis Luaran dan Penapis Dalaman. Ini menyebabkan Realiti Fikiran tidak sama dengan Realiti Sebenar.
Penapis luaran adalah disebabkan oleh keupayaan deria kita iaitu mata, telinga, rasa dan anggota kinestetik kita. Seperti contoh, tidak semua orang mampu menghidu bau dari jarak 1 meter. Maka informasi sudah pasti berbeza dengan yang mampu menghidu bau dari jarak 1 meter.
Jarak penglihatan setiap orang juga berbeza menyebabkan informasi yang diterima adalah berbeza. Begitu juga dengan keupayaan pendengaran dan lain-lain.
Penapis dalaman adalah disebabkan pengetahuan setiap orang berbeza tentang sesuatu. Seseorang yang tidak tahu membaca pasti tidak dapat menerima informasi melalui bacaan berbanding mereka yang pandai membaca.
Seseorang yang tidak pernah belajar komputer dan internet sudah pasti tidak dapat menerima ilmu dengan baik melalui pembacaan. Maka informasi yang diterima tidak sama dengan mereka yang pandai menggunakan internet.
Perasaan juga termasuk di dalam golongan penapis dalaman kerana perasaan yang berbeza menjadikan kita mempunyai pandangan dan pendapat yang berbeza tentang sesuatu perkara. Perasaan wujud disebabkan oleh kepercayaan diri kita ke atas sesuatu perkara.
Kepercayaan pula wujud disebabkan corak fikiran yang kita perolehi hasil daripada pengalaman kita yang lepas termasuk cara hidup kita, latar belakang keluarga dan juga pengaruh persekitaran, rakan-rakan dan sebagainya.
Maka sebab itu kita tidak tahu apakah sebenarnya Realiti Sebenar kerana informasi yang kita terima tidak sama setiap orang disebabkan penapis yang wujud pada diri kita. Kita memerlukan Klarifikasi atau Pengesahan bagi mengurangkan beza pandangan dan pendapat tentang sesuatu.
Sebagai contoh, jika saya berkata "Saya ada sebuah rumah tetapi kecil sahaja". Perkataan kecil itu tidak jelas dan setiap orang berbeza pendapat tentang perkataan 'kecil' yang diungkapkan. Ini kerana saiz kecil itu adalah berbeza setiap orang.
Kecil bagi saya mungkin rumah yang mempunyai 4 buah bilik tetapi bagi orang yang mempunyai 10 bilik akan berkata kecil itu separuh dari rumahnya. Bagi orang yang mempunyai rumah 2 buah bilik mungkin akan berfikir 'kecil' yang saya maksudkan lebih kecil daripada rumah beliau.
Sebab itu kita memerlukan klarifikasi atau pengesahan untuk memastikan saiz sebenar seperti contoh bertanya kembali, "kecil itu sebesar mana?". Saudara meminta saya membuat perbandingan dengan sesuatu yang jelas maksud 'kecil' yang saya katakan.
Di dalam hidup kita seharian, kita melalui banyak situasi dan setiap situasi pasti ada pilihan. Masalah kita di dalam membuat pilihan adalah kita tidak dapat mengetahui sesuatu yang berlaku di masa hadapan kita walaupun hanya 1 saat. Kita tidak tahu Realiti Sebenar kerana apa yang kita ada hanyalah Realiti Fikiran.
Kadangkala pilihan kita benar dan kadangkala salah. Ia disebabkan oleh keupayaan diri kita untuk mengetahui Realiti Sebenar sesuatu perkara itu adalah lemah disebabkan oleh penapis yang kita perolehi.
Oleh kerana kelemahan yang wujud di dalam diri kita, maka cara terbaik untuk kita mengetahui realiti sebenar adalah tidak ada cara lain lagi selain meminta panduan daripada "High Intelligence" iaitu Allah Yang Maha Mengetahui. KOMUNIKASI adalah jalan yang termudah dan paling berkesan di dalam proses mendapatkan panduan daripada Allah SWT.
Komunikasi mempunyai kesan sampingan yang paling baik di mana kita bukan sekadar mampu mendapatkan panduan memilih sesuatu dengan baik tetapi kita mampu mendapat perasaan ketenangan yang tidak ada bandingnya.
Komunikasilah dengan Allah sentiasa kerana HIDUP KITA INI PENUH DENGAN PILIHAN. Hanya Allah yang mengetahui pilihan yang terbaik untuk diri kita.
by fuad latip
source