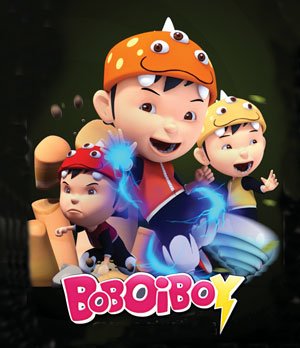 En. Mohd. Nizam Bin Abd. Razak, Creative and Marketing Director of Les's Copaque Productions
His award winning days started when he was a student in Faculty of Creative Multimedia, MMU. Majoring in Film & Animation. During his final year, with a few friends, he setup a team named Riven and produced 'Misi Mustahak' which won 4 national and regional awards.
For a company who had only been in operations for 1 1/2 years, Les' Copaque Production has already make its presence in the animation industry and set itself to enter both local and international animation market. It is currently working on Malaysia's 1st 3D Animated Feature Film entitled GENG: The Adventure Begins.
Recently Les' Copaque Production formed strategic alliance with one of China's largest animation studio Zhongnan Group Animation Video Co. Ltd. Both companies will co-produce a 90 minutes feature film entitled "36 Stratagem - Essential Art of War" with the estimated cost of RM 25 Million.
In Cannes MIPTV (World's Largest Audio Visual Market), Les' Copaque Production managed to secure a distributor, Voxell Group based in Russia for GENG: The Adventure Begins in 15 ex-soviet CIS states (15 countries).
Last year alone, Les Copaque won a series of awards which are:
Successful Creative Multimedia Member (Animation) - 2006
10th MSC Anniversary (MSC Creative Multimedia Content Initiative)
Anugerah Filem Pendek (AFP) - RTM & Filem Negara - 2006
Best Animation (GENG Sneak Peek)
Best Animation Director (Mohd Nizam bin Abd Razak)
Best Overall (GENG Sneak Peek)
===
SETELAH berjaya mencipta fenomena Upin & Ipin yang sehingga kini menjadi perbualan ramai, pengarahnya, Mohd. Nizam Abdul Razak atau Nizam kini muncul dengan produk animasi terbarunya, Boboiboy.
Jika Upin & Ipin sehingga kini kekal dengan konsep 1Malaysia, Boboiboy pula mengetengahkan animasi tiga dimensi (3D) superhero berwajah tempatan.
Dulu ramai yang terpegun dengan hasil kerja yang dilakukan Nizam dan rakan-rakannya dalam menterjemah animasi Upin & Ipin sehingga berjaya diangkat ke layar perak.
Maka, tidak mustahil jika lebih ramai yang akan teruja menanti buah tangan terbaru mereka yang lebih segar dan menarik itu.
Bezanya kali ini, Boboiboy merupakan produk sulung milik syarikat Animonsta Studios yang diterajui oleh Nizam serta dua rakan kongsinya, Mohd Safwan Ab. Karim (Safwan) dan Muhammad Anas Abdul Aziz (Anas).
Dijangka bakal mencipta satu lagi fenomena terbaru 'dunia' interaktif tempatan, produk tersebut tidak mustahil mampu membawa kelainan dalam perkembangan profil dan penghasilan animasi tempatan.
Bertemu Nizam, Safwan dan Anas baru-baru ini, masing-masing rancak bercerita perihal siri projek animasi itu yang dijangka menemui peminat di kaca televisyen pada tahun depan.
Siri tersebut bakal disiarkan selama 26 episod di mana setiap satunya dengan durasi selama 11 minit.
"Ketika ini, kami masih dalam peringkat perbincangan. Watak-watak yang bakal memainkan peranan penting dalam siri ini sudah ada dan minggu ini kami akan cuba menyiapkan kesemua karakter itu.
"Berbanding animasi Upin & Ipin, dalam Boboiboy kami ingin berkongsi banyak pengetahuan. Ditambah dengan pengunaan pelbagai gajet, secara tidak langsung ia dapat menimbulkan pelbagai perasaan kepada yang menontonnya nanti.
"Bagi kami yang penting ialah penyampaian. Kalau boleh kami ingin mencipta satu lagi 'ikon' untuk kanak-kanak di negara ini," kata Nizam mewakili rakan-rakannya.
Apa yang menarik dalam Boboiboy ialah beberapa daya tarikan yang terkandung meliputi karakter superhero Bo, Boi dan Boy, nilai-nilai murni, karakter makhluk asing (alien) dan juga unsur futuristik di sekitar ibu kota.
Ringkasnya mengenai animasi tersebut, ia memaparkan karakter utama iaitu seorang kanak-kanak bernama Boboiboy dan dibantu oleh beberapa karakter tambahan seperti Gopal, Ying, Yaya.
Dalam usaha menyalur bantuan kepada orang ramai, Boboiboy akan terpisah kepada tiga orang iaitu Bo, Boi dan Boy yang mempunyai tiga kuasa berbeza termasuk tanah, angin dan petir.
Turut diwujudkan ialah karakter makhluk asing yang membawa pulang biji kopi ke planetnya, namun kerana aroma dan rasa kopi yang begitu sedap, seluruh kroni makhluk asing itu sanggup turun ke bumi semata-mata untuk mendapatkan kopi tersebut.
Secara ringkasnya juga, Gopal iaitu karakter budak India yang mempunyai kuasa menukar sesuatu barang kepada barang yang lain.
Ying karakter budak Cina yang mempunyai kuasa yang membolehkannya bergerak pantas berbanding rakan-rakannya yang lain. Sementara itu, Yaya pula merupakan karakter kanak-kanak perempuan comel yang bertudung.
Boboiboy bukan saingi Upin & Ipin
Biarpun pernah menyertai Les' Copaque Productions Sdn. Bhd. (LCPSB) dalam membangunkan animasi Upin & Ipin tetapi kata Nizam, kemunculan animasi Boboiboy bukanlah bertujuan untuk bersaing.
Nizam, Anas, Safwan serta lima lagi kakitangan LCPSB yang lain membuat keputusan keluar daripada syarikat tersebut pada September lalu demi mencari 'tapak' dalam mengembangkan lagi bakat mereka dalam dunia animasi tempatan.
Setelah bersengkang mata hampir sebulan akhirnya idea untuk melahirkan Boboiboy hampir menjadi kenyataan.
"Kami tiada sebarang masalah dengan LCPSB. Malah, selama ini haji (Pengarah Urusan LCPSB, Burhanuddin Md. Radzi) telah banyak membantu kami dan memberi tunjuk ajar sepanjang penglibatan kami menghasilkan Upin & Ipin.
"Kami keluar dari LCPSB pun sebab kami ingin mencuba sesuatu yang baru.
"Terus terang, kami memang sayang kepada karakter Upin & Ipin tetapi rasanya tidak salah jika kebolehan yang ada kami pelbagaikan demi memeriahkan lagi industri animasi tempatan sebab pulangannya nanti kepada penonton juga.
"Kita perlu mengikut peredaran masa. Mungkin ini juga rezeki buat kami. Sebab itu kami perlu berani mencuba sebab bagi kami lebih banyak pelopor dalam industri animasi lebih baik untuk industri ini," kata Nizam yang juga Pengarah Urusan Animonsta Studios.
Menurut Nizam dalam industri kreatif tidak wujud persaingan yang terlalu besar kerana segalanya bergantung kepada penerimaan penonton.
Bagaimanapun, melihat kepada jalan cerita dan pelbagai kelainan yang ada pada Boboiboy, mungkinkah ia bakal 'menelan' populariti serta fenomena yang pernah dicetuskan oleh Upin & Ipin?
"Saya tidak rasa kehadiran Boboiboy akan mengganggu perjalanan Upin & Ipin. Ini kerana, jenama Upin & ipin itu sendiri sehingga kini begitu kuat.
"Saya rasa LCPSB pun ada strategi mereka sendiri dan dengan 70 orang kakitangan yang LCPSB ada, saya percaya mereka mampu mengekalkan apa yang Upin & Ipin ada kini untuk masa akan datang," kata Nizam lagi.
Menurut Nizam lagi, sambutan terhadap Boboiboy menggalakkan apabila terdapat beberapa stesen penyiaran tempatan dan antarabangsa yang bertanyakan tentang produk tersebut.
Malah, beberapa agensi kerajaan termasuk Pusat Kandungan Kreatif Multimedia Malaysia (MAC3) di bawah Perbadanan Pembangunan Multimedia (MDeC), membekalkan beberapa perisian untuk kemudahan mereka menghasilkan Boboiboy.
Bukan itu sahaja mereka juga mendapat kerjasama daripada sebuah lagi agensi, Cradle Fund Sdn. Bhd., yang membantu menyalur dana bagi merealisasikan projek tersebut.
Kepada yang berminat mengetahui lebih lanjut mengenai Boboiboy dan Animonsta Studios, sila layari laman sesawang, www.animonsta.com.