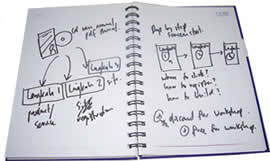 what you think write it down.
no matter it is wrong or right.
then the next step is to think and make it better...
di atas adalah pesanan supervisor....
so saya jumpa
buku idea saudara irfan disini
sangat menarik macam pesanan diatas. you can make it better...
=================================
Masa saya muda-muda dulu, saya selalu dapat idea-idea perniagaan. Dan terlalu banyak rasanya perniagaan yang saya nak lakukan serentak, sampai naik pening kepala nak buat yang mana.
Pening kepala, ok lagi… tapi yang tak ok nya, ketika itu, bila macam-macam idea, satu pun tak jalan! Semua nak buat… satu pun tak jalan
Sampai saya jumpa satu teknik ni. iaitu menyimpan buku idea. Berikut contoh buku idea saya…
Setiap kali dapat idea perniagaan, saya akan tulis dalam buku idea. tak kira, idea yang baik, atau idea yang kurang baik, semua saya tulis.
Bila menulis semua idea apabila idea datang, sehingga hari ini saya dapat merujuk idea-idea lepas. Jadi, saya tak lupa idea-idea saya!
Bila menulis idea, dalam kepala ia jadi tak serabut oleh kerana semuanya dah on paper. Satu idea, ditulis pada satu muka surat. Kemudian, saya boleh meletak prioriti, nak lakukan idea perniagaan yang mana dulu. Tanpa buku idea, ia akan jadi serabut dan semuanya saya nak lakukan serentak
Bila menulis dalam buku idea, idea yang biasa akan menjadi luar biasa kerana dari masa ke semasa saya dapat "update" idea-idea tersebut untuk jadikannya lebih baik!
Kalau anda jenis macam saya, ada banyak idea perniagaan tapi satu pun tak jalan, mungkin anda juga perlu sebuah buku idea